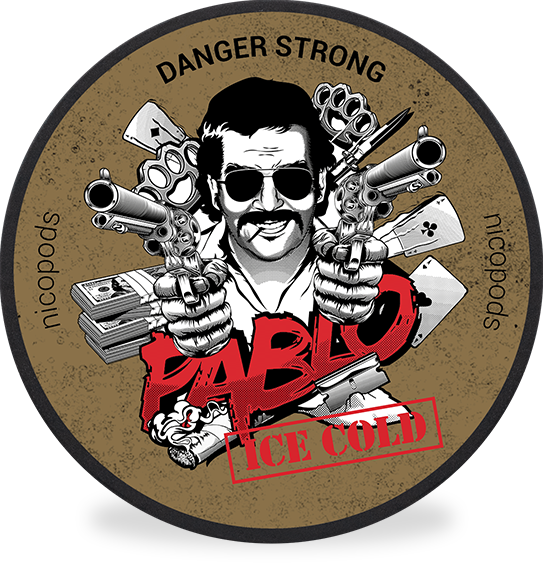 Pablo Ice Cold 16g
Nicotine per gram:
Nicotine per product:
Are things getting too hot for you? Cool your senses with PABLO ICE COLD. A strong white nicotine pouch with a cooling mint flavour mixed with a lot of nicotine, all for a good time.
Nicotine content in one portion is 24 mg.
This tobacco-free product is suitable for the experienced nicotine pouch user, as the nicotine content is very high! 16 grams - 20 pouches with a size of 0.8 grams.
Ingredients:
Water, cellulose, acidity regulator, humectant, nicotine, preservative, natural flavoring agent.
Nicotine content: 30 mg/g
Net weight: 16g
Taste: Mint
Manufacturer: N.G.P Tobacco ApS
Country of origin: Denmark
Manufacturer's website: https://www.ngptobacco.dk
PABLO does not need an introduction. Everybody knows PABLO. PABLO is the good-old, danger strong boy that's been out there since the very beginning. No one plays games with PABLO. Known for it's extra high nicotine levels with the fastest nicotine absorption, PABLO has been created for true nicotine lovers. As they say, once you've got to know PABLO, you can never go back.

How to use Nicopods
Time of action 5-30min A plate for resorption, on a plant-based basis, to fight smoking habbit, is not a medicine. Do not consume: Persons under the age of 18, pregnant and people with high sensitivity to nicotine. Use: lay behind the upper lip for 5-30 minutes. Then spit it out without swallowing. Use no more than one sachet for 2 hours. NOT A TOBACCO PRODUCT
| | |
| --- | --- |
| Nicotine per product | 24mg |
| Nicotine per gram | 30mg |